Reliable offers pipe fabrication services through both company-owned fabrication facilities and through third-party partners.
Fabrication services include threaded pipe and welded pipe and may be submitted using HydraCAD's™ HydraLIST™ software (HLF format). Pipe jobs are printed for shop fabrication inclusive of lists, sketches, and labels. Pipe is bundled by identification, wrapped, and color-coded.
Plain or plated rod can be cut to length and assembled with fastener and right. Hanger assemblies are bagged, palletized, wrapper identified, and color-coded.
For a quote on your next project, speak with our sales team to receive a customized recommendation.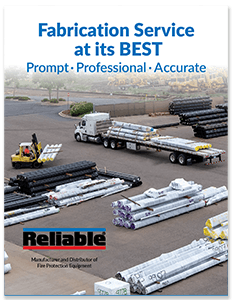 Pipe Fabrication at its Best
Contact a Fabrication location near you: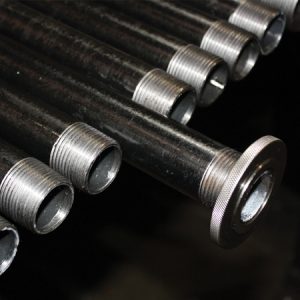 Details:
Pipe is gravity fed into measuring system, then roll cut to length and label is applied
Pipe is then gravity fed to Landis threading machines
Thread are cut to ANSI/ASTM B 1.20.1 then checked by ANSI standard ring gauges
PipeFit AS anaerobic thread sealant with Teflon is applied
Thread fittings are assembled to the pipe
Assembled Pipe is gravity fed to the PACE make on machine then hydraulically torqued to ANSI specifications
Line piping is separated by the number inclusive of all diameters then tied in easy to handle groups
Master bundles are color coded and marked with the line number contents
2′-6′ and under bagged pieces contents are marked, palletized, shrink wrapped, identified and color coded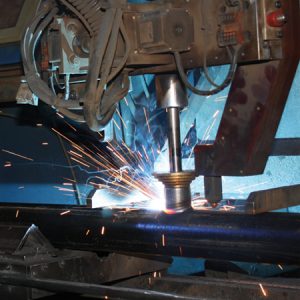 Details:
Pipe is gravity fed into the N.A.P. Quick cut measuring system and cut to length
Pipe is labeled and color coded
Cut end is then flapper disc chambered, then gravity fed to PACE hydraulic roll groove machine
Groove depth and flare are checked with pipe tape in the case of galvanized pipe, then flaking is removed internally by die grinding and external removed by flapper disc
Galvanized pipe end is sprayed with cold galvanizing internally and externally
Pipe is then gravity fed to the N.A.P. Universal Welder
Outlets welded to galvanized pipe are galvanized cold sprayed
Weld coupons are removed, bagged and stored
Blast cannon removes all dust and dirt from inside of pipe
Welds are die penetrate and developer tested
Pipe is bundled by identification wrapped and color coded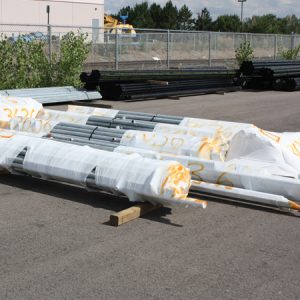 Details:
Plain or Plated rod can be cut to length and assembled with fastener and ring
Hanger assemblies are grouped, tied and tagged by the identification number
Hangers are bagged, palletized, wrapper identified and color coded